*NEW* Update #22: 05/20/17 Saturn Power Magazine PDS Preview (Saturn Power issue 10 Feb. 1998)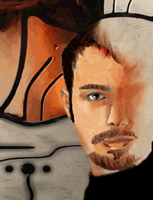 I've gotten ahold of an old issue of the UK Magazine: Saturn Power! Inside is a preview of Panzer Dragoon Saga. Apparantly, the ages of the main characters were confirmed by the previewers. You can check it out here! Or below:
Update #21: 04/16/16 Old Gamefan PDS reviews (Gamefan issue 5 May 1998)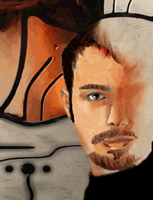 I recently discovered a few old Gamefan Panzer Dragoon Saga reviews. One of the reviewers was amazed at how original the game was for its time; all the while having to compete with Grandia! He enthusiastically states: " A beautiful, glorious game that every true gamer needs to play." Check out the reviews under Gamefan issue 5 May 1998 here! Or below:
Update #20: 11/28/15 Custom Panzer Dragoon Saga Wall Scroll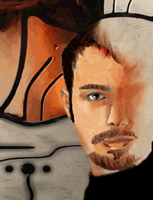 With the limited amount of official Panzer Dragoon merchandise/collectibles, sometimes the fans have to take it upon themselves to create new items. There are many examples of this ranging from: Panzer Dragoon coffee mugs, Panzer Dragoon key chains, to more intricate items such as carved tablets made from stone.
Now there is something any Panzer Dragoon fan can do: and that is make a custom wall scroll! Over at Custom Wall Scrolls you can take any of the beautiful art from the Panzer Dragoon series and make yourself a custom fabric wall scroll; printed on high quality polyester!
Here is an example of one that I recently made: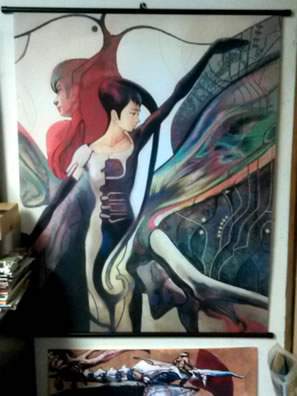 The results may vary, so try to pick a large high quality image. Try it out and display something you're passionate about!
Update #19: 4/22/15 Old Gamefan PDS preview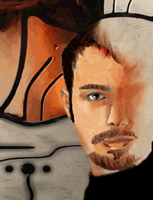 Added an old preview article of PDS from Gamefan Vol. 5 issue 12. This is at a time when it was thought the game had over 100 hours of gameplay lol...!
Update #18: 1/12/15 *PDS Oasis moved to GitHub Pages!*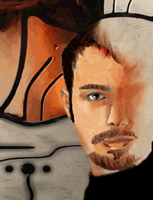 PDS Oasis has moved on over to GitHub Pages! If anyone is looking for a great free webhost with no ads; GitHub is the way to go! A Special thanks to Solo_Wing for hosting the site for all these years!
If anyone is having trouble using GitHub, this tutorial may help:
https://www.youtube.com/watch?v=1UiICgvrsFI
Update #17: 1/1/13 *HAPPY NEW YEAR!*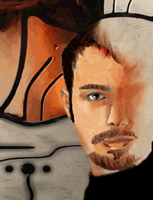 Happy New Year! I've uploaded an extensive amount of Nausicaa artwork to the multimedia section of the site. They are scanned from the Nausicaa art book and quite a few pieces can only be found here. I sort of salvaged them from an old Nausicaa site I made a long while ago. So, I hope you can appreciate the artwork and creative minds that brought them into existence! Enjoy!
Update #16: 7/12/12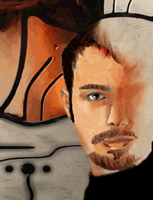 I just wanted to show off this cool item I saw on Ebay. It's an Azel (real stone) tablet! It's definitely cool and makes a nice display piece. I just had to snagg one myself!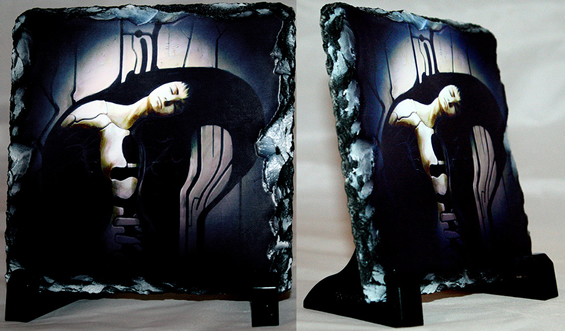 Auction description:
This auction is for a Panzer Dragoon Azel stone tablet decoration.
This tablet features Azel when she is trapped in the ruins.
This flat tablet is made from stone and measures 14cm tall and 14cm wide.
The tablet comes complete with display stands (see photo)
There may be some slight variation of the outside edges of these tablets as they are made from natural chipped stone.
This means that each tablet is totally unique.
Update #15: 8/11/09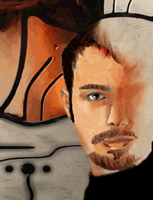 I've added Rare Enemy Info to the Enemies section of the site as well as a similar section to the PDS Guide section: "Things You Should Know Before Playing PDS". I hope I didn't miss any rare enemies; it's been a while! Special thanks to Jonathan Auger for this much appreciated suggestion to the site!
Update #14: 9/12/08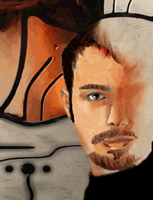 Have any of you wanted to see an extended ending to Panzer Dragoon Saga? An ending that explained a few more mysteries? Well, there is a secret scene in Panzer Dragoon Orta which is meant to be an extended ending to PDS, explaining how the dragon was able to leave the Sestren Network. I've also uploaded this extended ending to the Movies section. Enjoy!
Update #13: 1/20/08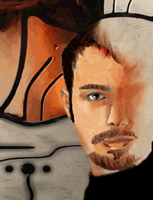 While not exactly Panzer related, I'd like to show you all another site I helped a friend make. It's a site dedicated to Hayao Miyazaki's Nausicaa called: The Valley of the Wind. The site contains: an extensive artwork gallery, Nausicaa OST's, movie clips, and an abundance of information. So, if you like Panzer Dragoon: Nausicaa mirrors it's world in a number of ways. Enjoy!
Update #12: 11/21/07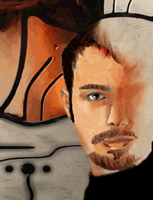 The December issue of Gameinformer surprisingly has a ClassicGI section dedicated to Panzer Dragoon Saga. The article sums up the games history as well as explaining its unfortunate downfall. A nice read if I don't say. It's always good to see new articles concerning our favorite game! I've also added this article to the Articles section for future reference.
Update #11: 9/12/07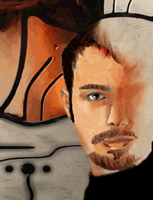 I'd like to point everyone in the direction of 1Up's Panzer Dragoon Retrospective. It's a great recap explaining the history of the series, and many things are clarified by Yukio Futatsugi (series director). An awesome read for any fan of the series!
Update #10: 3/12/07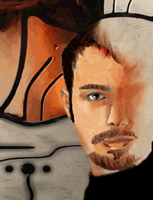 Well, I gave the site a new look. I think this background looks better than the other one. Everything flows a little bit more smoothly now. I also got rid of those blue links.
Update #9: 8/19/06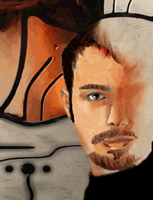 I've added the last Arzach comic called, The Legend of Arzach to the Moebius Artwork section of the site. This later story contains dialogue and is more light hearted, compared to the other Arzach comics.
Update #8: 8/12/06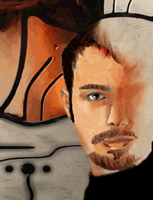 You guys are in store for something special! I've gathered a collection of Moebius artwork for your viewing pleasure. The artwork consists of the complete Heavy Metal Arzach comic collection, as well as: various Arzach artwork, Moebius' Panzer Dragoon artwork, and Moebius/Panzer Dragoon Parallels. Although the dream-like world of Arzach is highly creative paralleling Panzer Dragoon in many ways, the comics do contain mild nudity. So, before you indulge yourself in Moebius' finest work, make sure you can handle the content. Above anything else: I hope you enjoy yourself while appreciating Moebius' exquisite art!
Update #7: 8/3/06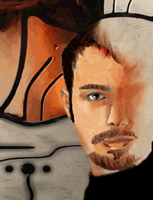 I recently wrote a new theory called Gash's Identity Theory. What secrets are concealed under Gash's mask? Why does he keep his right arm covered? Could he be a drone/half drone? Read the theory and judge for yourself.
Update #6: 5/31/06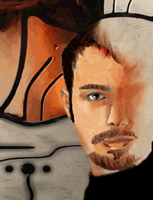 I've added a new section to the site called "Articles". It's a collection of PDS, PDZ, PD, and PDO magazine articles ranging from: previews, reviews, strategies, and much more.
Update #5: 5/23/06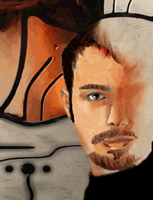 Panzer Dragoon Saga finally gets recognized as # 1. In the new June issue of Gameinformer, an article dedicated to the top 10 rare Rpgs nominates Panzer Dragoon Saga as the # 1 role-playing game! Hopefully this article will allow more people to become aware of this great masterpiece. They may even be intrigued to play the game, that is: if they can afford it. ;)
Small Update:
Apparently, there is also a past article from Electronic Gaming Monthly, I recently discovered called: Top 10 Cult Classics over at www.1up.com. Panzer Dragoon Saga also snagged # 1 as well! Unfortunately, this article was just recently deleted from the site.
Update #4: 5/21/06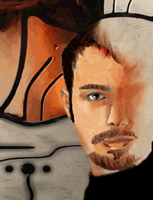 I've just added a new theory to the site called: The Coolia Inconsistency Theory. This theory discusses the possibility of different Coolia species and their evolution. Official Coolia artwork from Panzer Dragoon Orta may even prove my theory on Coolia evolution to be fact!
Update #3: 1/25/06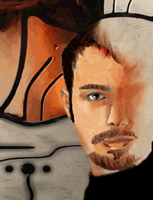 Panzer Dragoon Saga Oasis is now hosted by www.panzerdragoon.net! I'd like to thank Solowing for presenting me with this privilege. Now we can say good-bye to those pesky ads!
Update #2: 1/9/06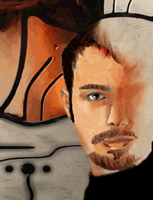 After 6 months of hard work, I just wanted to let everyone know that my Panzer Dragoon Saga guide called: Edge's Diary the Story of Panzer Dragoon Saga is finally complete! It covers basically everything, with detailed area maps/item lists, Edge's diary entries, as he visits each area of the game, enemy strategies, and a step by step overview of what you had to do in each area, pics included!
Update #1: 1/4/06 Happy New Year!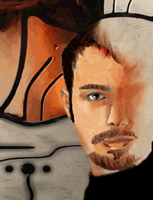 Changes: I have made the menu bar buttons smaller, and divided the content up into 3 sections for easier navigation.
Info section: I added tons of info on what PDS is, and how you play the game. I also added a history of the series section called "What's a Rail Shooter."
Juba's Corner section: This section has been completely reworked. You can actually see the side affects of Juba's drinks happening right before your eyes!
Characters, Locations, Books, Monsters sections: I added a table of contents, for each of these sections for easier navigation.
Panzer Dragoon Saga Guide section: Edge's Diary: My PDS guide is almost complete! All that I have left are side quests and the final battle! I hope you all like it, I put my heart and soul into it.
Maps/Item lists section: All the maps I have been making for my PDS guide, have been put into one place on the site.
Review section: Added a new review by Mario Rodgers (Dragoonlover on TWOTA forums).
My Profile Section: Well, lets just say I'll let you see for yourself. Hint, its below my profile.
Lastly, Movies Section: Added tons of new movies from PDS. More to come in the near future!
Well, that's it for now. Tell me what you all think, is it an improvement over the last version of this site? have fun but be sure not to step in any Coolia's Dung!
This website is not supported or associated with SEGA or Smilebit. Panzer Dragoon Saga and all other official Panzer Dragoon content is © SEGA, 1995-2007.